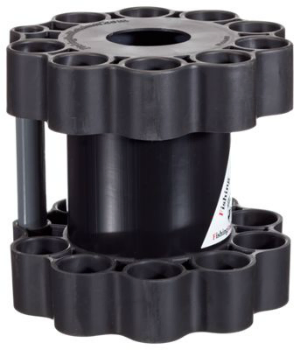 Introducing the new!

Fishing Rod Retainer

Say goodbye to rod tangles. The Fishing Rod Retainer Caddy is an innovative, portable device designed to hold your rods safe at all times, in the house or garage, on the dock or boat, and at all points in between. Extremely compact, this lightweight, easy-to-carry holder secures up to 9 rods in a tight circular arrangement, and has a built-in handle for convenient one-handed transport. Simply set The Fishing Rod Retainer on any flat surface, with rods stowed upright for easy access; or take advantage of its perfectly-sized center hole and slide it over a boat seat pedestal or tubular dock post. Buy several, and keep all your rod "families" separate, yet rigged and ready to go at a moment's notice! Made in USA.



Portable holder prevents rod tangles
Great for carrying, storing, and displaying rods
Compact, lightweight, easy-to-carry design
Holds up to 9 rods tangle-free
Built-in handle for easy one-handed transport
Set on any flat surface to stow rods upright
Slides snugly onto a boat seat pedestal or tubular dock post

Item# FRRC

Availability: In-Stock

Price: C$39.99