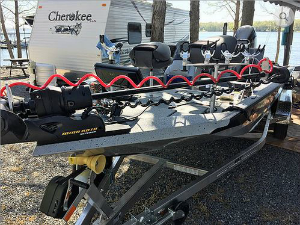 Cornfield Crappie Gear


Cable Save "R"

Protects your external transducers cables when mounting on electric drive trolling motors!

Cable save 'R gives you a way to protect the cable from getting chewed up on the trolling motor.
If you run a transducer on the new stile composite shaft trolling motors this is the way to protect the cable.

Aluminum CNC machined clamps hold the poly tube and clamp to the trolling motor. Transducer cable hides inside the poly tube for protection. Mount clamps cut hose to fit your application insert cable inside.

Available for Minn Kota (Ulterra, Ultrex, Terrova, Power Drive) and Motorguide Xi5 trolling motors.

Works with Garmin Panoptix transducers when mounting on the trolling motors torpedo.

Protect your transducer with a Transducer Shield & Saver for a great combo.


*NOW COMES WITH BLACK HOSE THAT CAN BE CUT TO LENGTH FOR SHORTER SHAFT MOTORS.

Item# CFCG-CSR

Our Price: Starting at C$219.99

Availability: In-Stock