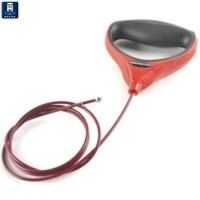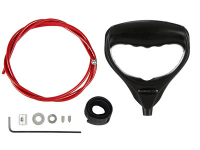 GFH-1G-DP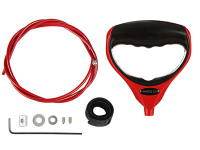 GFH-1R-DP
GFH-CA1R-DP


G-Force™ Trolling Motor Handle



The G-Force™ Handle is a quantum leap improvement in trolling motor replacement rope technology.

This trolling motor replacement release & lift system is a rugged, nylon jacketed stainless steel cable with a large comfortable cushioned grip handle which solves the problem of the cheap lift & release ropes on today's trolling motors. Endorsed by B.A.S.S. Elite Pro "G-Man" Gerald Swindle this is the last lift & release system you will need to buy.

As trolling motors become more powerful, complex and heavy the lift systems from the manufacturers have not kept pace. Too often fishermen are faced with broken ropes and handles often in critical times, especially tournament guys. The G-Force™ Handle solves that problem once and for all. Fits most models and makes of electric trolling motors including Minn Kota and Motorguide. The G-Force™ Handle comes complete with a hook-n-loop strap to secure to the motor shaft while underway. This product will last and can lift in the most difficult situations.

GFH-1 Price: C$55.99

G-Force™ Trolling Motor Replacement Cable Handle

Available in Black or Red

Installation Video:


NEW!

GFH-CA1R-DP Price: C$69.99

G-Force™ Clamp On Cable Handle for Wireless Trolling Motor available in red only.