Superstick KVD Edition
C$289.99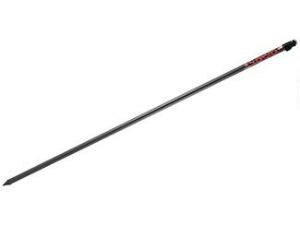 Superstick KVD Edition Push Pole Kit

Perfect for sneaking up on bedding fish and easily stowing in your boat, the patented SuperStick Push Pole Kit has revolutionized the push pole with its versatility and multi-purpose features. As handy as a Swiss Army Knife, it can handle a variety of fishing, boating and hunting needs.

Constructed out of super tough, high quality polyester fiberglass, it features a convenient telescopic design with a patented positive locking system that allows it to be extended and locked in any position from 6 to 12 feet. Weighing in at only 3.25-lb, the SuperStick also features an easy-to-grip, non-slip texture, and if you do drop it in the water it even Floats.

The SuperStick's Duck Foot attachment also features a Lure Retriever that extends out from the side for anglers or a decoy retriever for duck hunters. With a simple push of the button, you can remove the duck foot and transform the SuperStick into a Gig, Boat Hook, Scrub Brush, Gaff, Fish Tagger, Landing Net, Squeegee, Stake Out Pole, or Paddle (compatible with Shurhold, Swobbit and many other companies' 3/4 inch attachments). You can also use the universal attachment to unleash additional capabilities. Next time you hit the water, don't forget the SuperStick Push Pole Kit.

Length: 6 - 12 ft
Outer Diameter: 1.25"
Inner Diameter: 1"
Universal Attachment: fits 3/4" attachments!

Color: Black

Item# STPP-6-12-KVD

Price: C$289.99

May require an additional shipping charge due to size, weight, or quantity ordered.