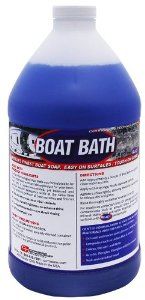 Boat Bath 1/2 gal.
Bottle

Price: C$17.99
BOAT BATH
Boat Bath is a super-concentrated, pH balanced, premium shine enhancing soap designed to provide superior detergency while at the same time being extremely gentle on gel coat and marine paint finishes. Boat Bath contains special rinsing agents that help eliminate spotting and streaking. It's everything you want in a professional quality boat soap!


Specially formulated to gently clean vehicles of all types. Ideal for everyday use.

Will not strip wax.

Safe to use on exotic materials such as aluminum, magnesium, Plexiglas, carbon fiber, etc.

Boat Bath creates a luxuriant, sudsy foam to break up grease, grime and gently lift away dirt.

Get more shine with less streaks.

The ideal cleaning compliment for a vehicle protected with RejeX or Xtreme Finish.