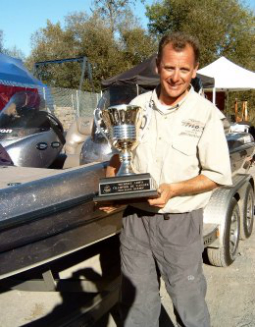 Gary Gaussiran started competitively fishing in Quebec as of 1992. With these years behind him, he has gained a lot of experience on the water, Including four years of fishing the Bassmasters Eastern and Central Invitational tournaments from 1998 to 2001. He has won many tournament in Quebec since his beginnings, but his crowning achievement was in 2004 when he and his partner won back to back Quebec Bassmaster and Pro Bass Canada classics. He still travels to the USA to fish tournaments and was the highest ranked Canadian in last years Bassmaster Northern Open Series with only 2 of the 3 tournaments completed. Gary has been self employed since 1993 for the most part making his living as a transport broker. This is a new beginning for him as he finally get to work in an industry that he is passionate about. He is no stranger to the sport fishing industry and even less the Fishfinder segment of it. He was a Lowrance Electronics pro staff from his beginnings in 1992 right up until he began with Humminbird in 2008 and you can still find him working for Humminbird at either one of Sportsmen Shows in Montreal or Quebec, maybe he has already sold you a Fishfinder.



I've seen the evolution of the Fishfinder since I purchased my first personal device, a Bottom Line portable unit back in the late 1980's and what a ride it has been since then, todays FishFinders combined with GPS Chartplotters and mapping software are so advanced that anyone out there that know's what they are doing are going to find fish and lots of them. The advances that have been made in this field have help thousands of fisherman guarantee their success on the water, let me help you be one of them.


For more information, email info@fishntech.com or call (514) 990-8144
Join me at one of my seminars or call for a free no obligation quote!